| | |
| --- | --- |
| Posted on January 27, 2016 at 9:28 AM | |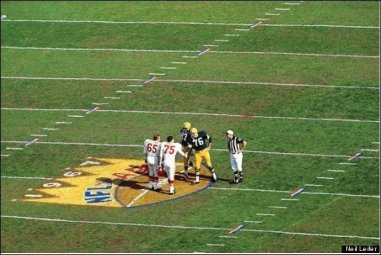 NFL teams are not exactly small businesses.  In fact, according to
Forbes
the 2015 NFL franchise value for the Denver Broncos is $1.94B making them the 11 most valuable team.  The Carolina Panthers at $1.56B are ranked 19.  When you compare their Twitter follow-to-follower ratios the Broncos are above average while the Panthers are below average.  The average for the entire league is less than one half of one percent (0.32%) which means that bar is not set very high.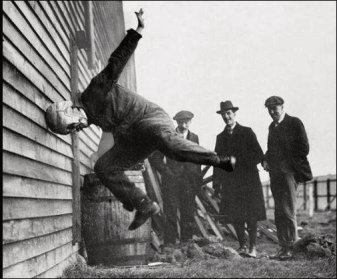 "This Copyrighted Broadcast is the Property of the National Football League"
Let's face it, NFL teams broadcast on Twitter; they don't follow back for purposes of fan engagement.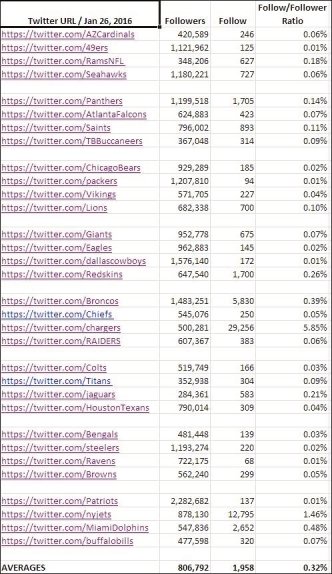 Too bad, because the numbers above suggest that each team is passing up an opportunity to show their fans just how much they appreciate their support by following them back.  Think about it; how would you feel if your favorite NFL team followed you back?  How cool would that be?!  Based on the numbers above I may start cheering for the Chargers.
Why don't teams follow back their fans? Would it take away their brand prestige? Would the process and cost be too great to implement a strategic follow back plan?  Based on their financial values I don't think it would break their bank accounts to support their customers with a new social engagement strategy.  And it's not like the NFL doesn't leverage technology.  Why do major brands ignore their customers in this manner?  The business goodwill they could be generating would be priceless.
Categories: Customer Experience, Social Media
/