| | |
| --- | --- |
| Posted on February 22, 2016 at 3:45 PM | |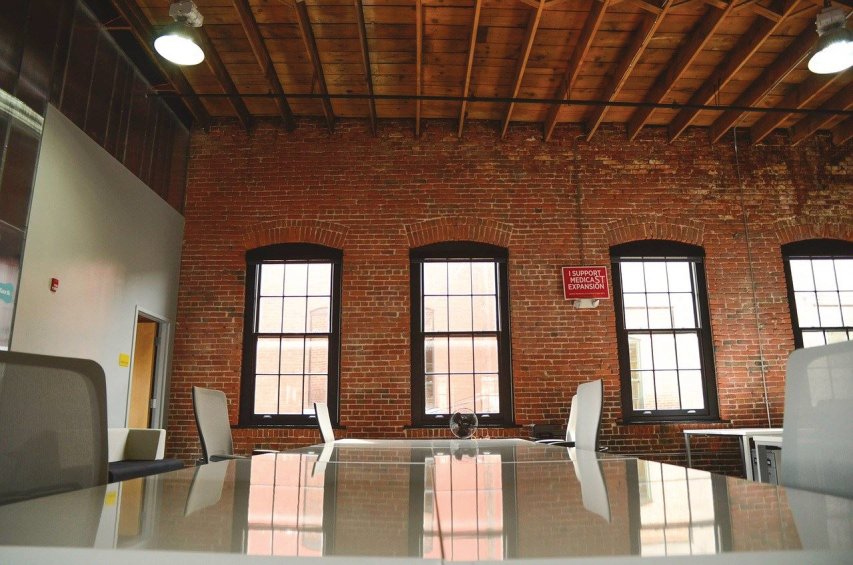 The executive team gathered around the conference table and the webcam flashed green as the First-Half 2016 sales forecast began.  The CMO remembered a time when these meetings were in person and required full business attire, there was no PowerPoint, and there were no smart phones or facilitated hashtagged social conversations with the audience.  The business world had changed though, and he loved it.  He can tweet and blog with the best of them.  Social media and mobile devices were changing the business landscape, and he was determined to help his company meet the transformation challenge.  The prior year had involved several one-on-one meetings with his counterparts.  They were productive, but at times he could still feel a little tension and some apprehension.
Information Technology - The Chief Information Officer
The prior year included several meetings with the Chief Information Officer.  In late 2012 Gartner analyst Laura McLellan had published a report that contained the statement "by 2017, the CMO will spend more on IT than the CIO."  Of course a sound bite like that raised some eyebrows in both marketing and IT.  2017 is now less than one year away and it was time to check their facts and see if that prediction could be supported with their own data.  The CMO and CIO had already been working closely together over the past couple of years as a result of the organizations ongoing social media and mobile marketing initiatives.  And what did they discover?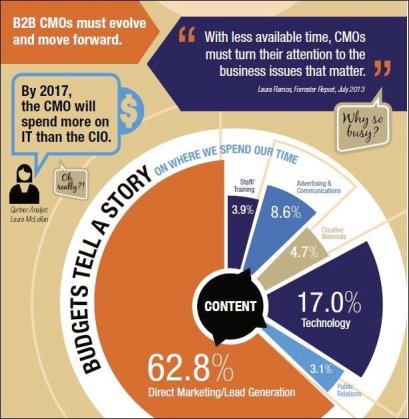 That technology was indeed the second largest part of the marketing budget.  But for their company, the associated dollar value was not more than the IT budget or likely to overtake it.  What was actually becoming of greater concern was the number of applications, programs and platforms the small marketing team was being tasked to learn and manage.  In fact, across all the marketing functions, the number currently stood at well over two dozen.
CMO/CIO Collaboration: Marketing departments are often responsible for several technical applications. They can include aspects of CRM, marketing automation, email marketing, website analytics, data analytics, marketing research, creative applications, webinar-meeting, and more.  This doesn't even begin to touch on all the new social media and mobile marketing related platforms and applications that are now part of the strategic marketing plan.  The CMO and CIO need to focus more on matching talent and headcount to the applications that are actually being used and bringing value than worrying about who has the bigger budget.
Sales – The Chief Sales Officer
Like many CMO's he had started his career in sales.  He had carried a quota and covered a territory just like the CSO.  That background brought great credibility and helped them agree on many strategies; but they could still have their moments when it came to lead generation.  Of course sales would like "qualified, ready-to-buy right now" leads.  But they both know in complex solution selling environments that's not a realistic expectation.  Marketing was providing support through the entire sales cycle, but their main focus – including the budget – was on the front end.  Creating awareness, generating interest and building greater industry credibility had been important to helping them engage with prospects and customers.  And the fact that over 60% of their marketing budget was dedicated to lead generation activity supported that point-of-view.
CMO/CSO Collaboration:  There will always be some degree of tension between sales and marketing when it comes to lead generation activity.  And that's OK, the key is not to let it spiral out of control.  One area the CMO and CSO agreed needed more focus was on helping the sales teams understand and make better use of social media, particularly LinkedIn.  Many sales people still view social media as child's play.  They are not leveraging social platforms as business development tools.  Subject matter experts from the marketing team need to spend more time training the sales teams, one-on-one if necessary, in order to make improvements in this area.
Legal – Chief Legal Counsel
A few years ago the CMO and Chief Legal Counsel had a difficult relationship.  At one point the CMO had actually said "I'd rather go to the dentist than have a meeting with our legal department."  The reason is that Legal and HR had formed an alliance to band all corporate social media activity.  Employees were not allowed to access LinkedIn during the early social media years and later on blogging, Facebook and Twitter went through similar review processes.  That was now in the past, the legal department was onboard.
CMO/Legal Collaboration:  Legal understands the value of social media and recognizes the fact that there will always be some degree of risk associated with those media channels that cannot be totally mitigated.  However, that doesn't mean marketing gets a free pass.  The marketing department will work to make sure all "Social Media Policies and Procedures" documentation is always up-to-date and communicated throughout the organization.  This will be very important because "Social Employee Advocacy" software applications are likely to expand how marketing leverages social media throughout the company in order to help employees feel comfortable in the role of brand advocates.
Human Resources – Chief Human Resources Officer
Like legal, HR has been fully engaged with marketing as it related to the new social media channels.  Sure, in the beginning they worried about employee productivity and whether or not social media was even relevant to their functional area.  At times they still wonder about the productivity, but they definitely see the recruitment value.
CMO/HR Collaboration:  There are two important areas the CMO would like to see addressed as it relates to HR and how their current processes impact the corporate brand.  Both projects will also involve IT.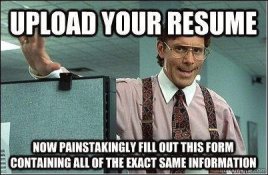 First, current HR applications and processes offer prospective employees the ability to connect their LinkedIn profiles and or upload their current resumes.  Either way, the process still requires them to enter the same employment and education history that can be found in those sources.  This duplication of effort is time consuming, frustrating and leaves a bad first impression of the corporate brand.
Second, automated boilerplate rejection letters are killing brand value.  Take a close look at the message projected in a typical automated HR letter:














































What type of messages are we sending?  Here are just a few to consider:

 


1. Applicants don't appear to rate a human response.  Sorry the "HR Department" doesn't count.  By the way, how do you feel when you get an email concerning a subject that you'd naturally like to respond to, but can't?

2. The subject line "Thank You for Your Interest" feels like a Western Union Death Notice.

3. The applicant response is not personalized.  Sorry, just because you used their first name in the opening doesn't make it personal.  Most standard rejection letters have the exact same wording.  It appears that all HR departments are using the same group of lawyers for this task.  Sorry, just kidding.  But really, how original.

4. Your high-level feedback, "credentials and experience are valuable" is too general in nature and is not helpful to the applicant or the process they are going through.

5. The same form letter is sent to nearly every applicant.  Sure, the three or four you interview and the one person who gets the job doesn't receive this particular letter.  But think of the hundreds of individuals, some who might be potential customers and have a high degree of social influence, who are now very disappointed and perhaps quite insulted by the rejection.

6. The response was sent late.  They applied for that position three months ago.  The fact that you were busy is not an excuse.  Simply terrible.

 


In my opinion the hiring manager (even if the position is reporting directly to the CEO) needs to send the letter.  A form rejection letter sent from HR months after the application was submitted only confirms that they were never seriously considered.  We've figured out how to do one-to-one marketing with our customers and prospects; it's time to bring that same care to our HR process or we'll find ourselves losing ground fast in the social economy.

 


CMO / CEO Collaboration:

The Chief Executive Officer came up through finance and is pretty much a numbers person.  And, as you might suspect, the CEO takes special interest in things that increase revenue, decrease costs, or mitigates risk.  In short, that means the question "What's the ROI?" is never going to be far from the surface.  The CEO is speaking now so let's listen…

 


"What is currently impossible to do that if it were possible would change everything."

 

That's an interesting question to open the meeting…

 


"Well, use the hashtag #ItsPossible for today's meeting because we've got big news!"

 

OK, the CEO is more than just a numbers person!  The CEO understands the importance of leading by example and is not afraid to leverage the new social platforms.  Perhaps I'll take some time to enjoy my seat at the executive table this year.


















































































Categories: CMO, Human Resources, Leadership

0

/